Becoming an Influencer: How a Journalist & Mom Found a Way to Build Her Brand
And How It Can Help You in Your Business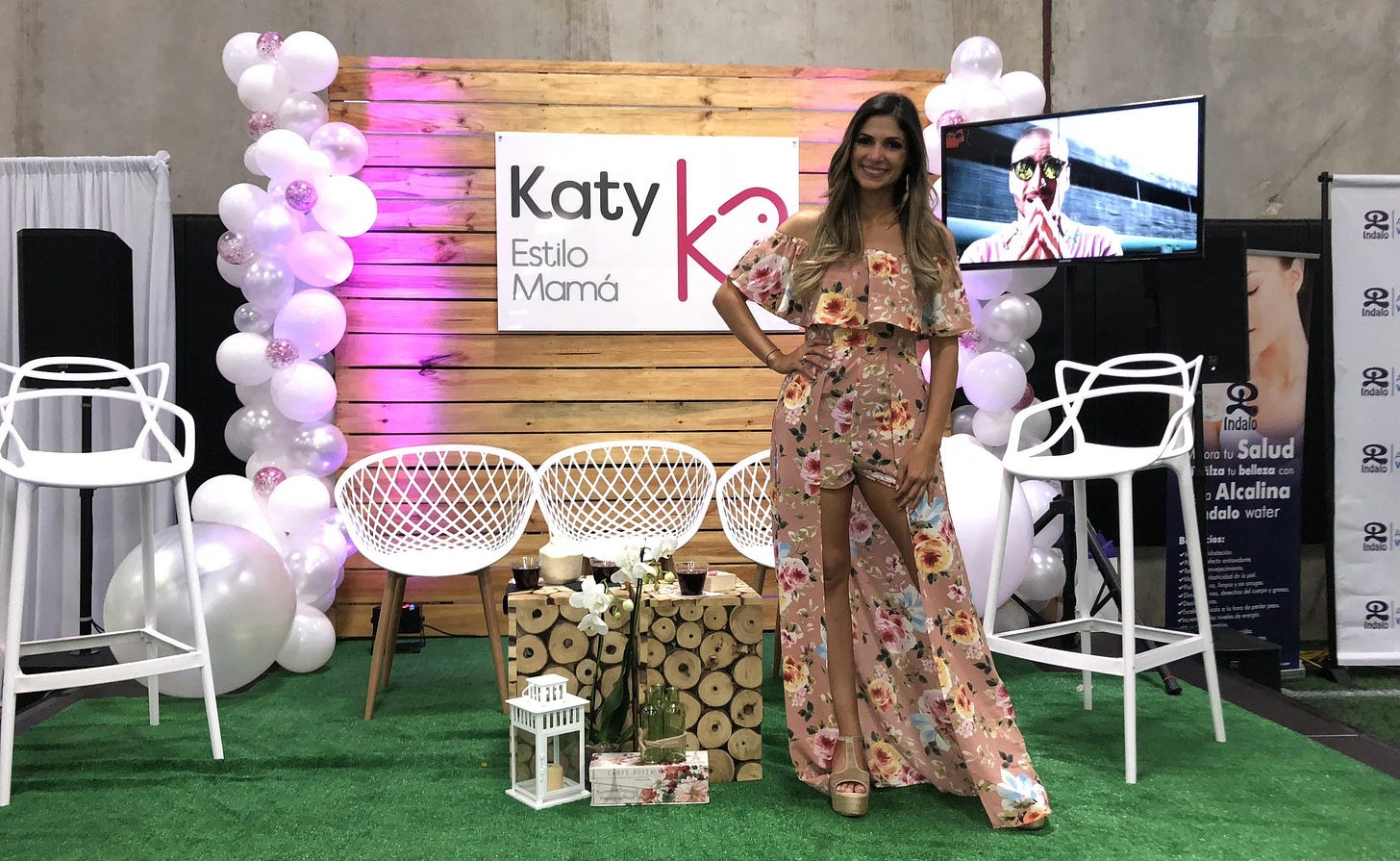 Hello, everyone! 👋🏽👋🏿👋 It's relatively recently that "influencers" became a part of our vocabulary. But if you've been thinking about blogging, listen up!
Katy Ferrer, the brains behind the brand, Katy Estilo Mamá, shares how she set herself up to do it after a traditional career in journalism in Venezuela. Already, she has amassed 185,000 followers and counting on Instagram.
Here's what you'll get out of my profile of mom blogger, journalist & social media influencer, Katy Ferrer, in Part One:
🌴 Encouragement for doing things differently.
🌴 Ferrer's approach to her "power hour" and why you need your own "power hour".
🌴 A framework she suggests for accomplishing your goals.
WHO CARES IF YOUR WAY OF DOING THINGS IS A LITTLE WEIRD?
Katy Ferrer is doing things her way.
The journalist, mom blogger and social media influencer wants you to have the fearlessness to do the same.
She tells the story about being in college and finding her own unique way of studying.
"When I had to study, I would go to the bathroom… I would let a little bit of water drip from the shower, and I would lie on the floor. Not inside the shower. But outside it."
RESULTS ARE WHAT MATTER
"I don't know why, but this let me concentrate."
Ferrer doesn't care if you think she's crazy for doing that.
She graduated summa cum laude from college.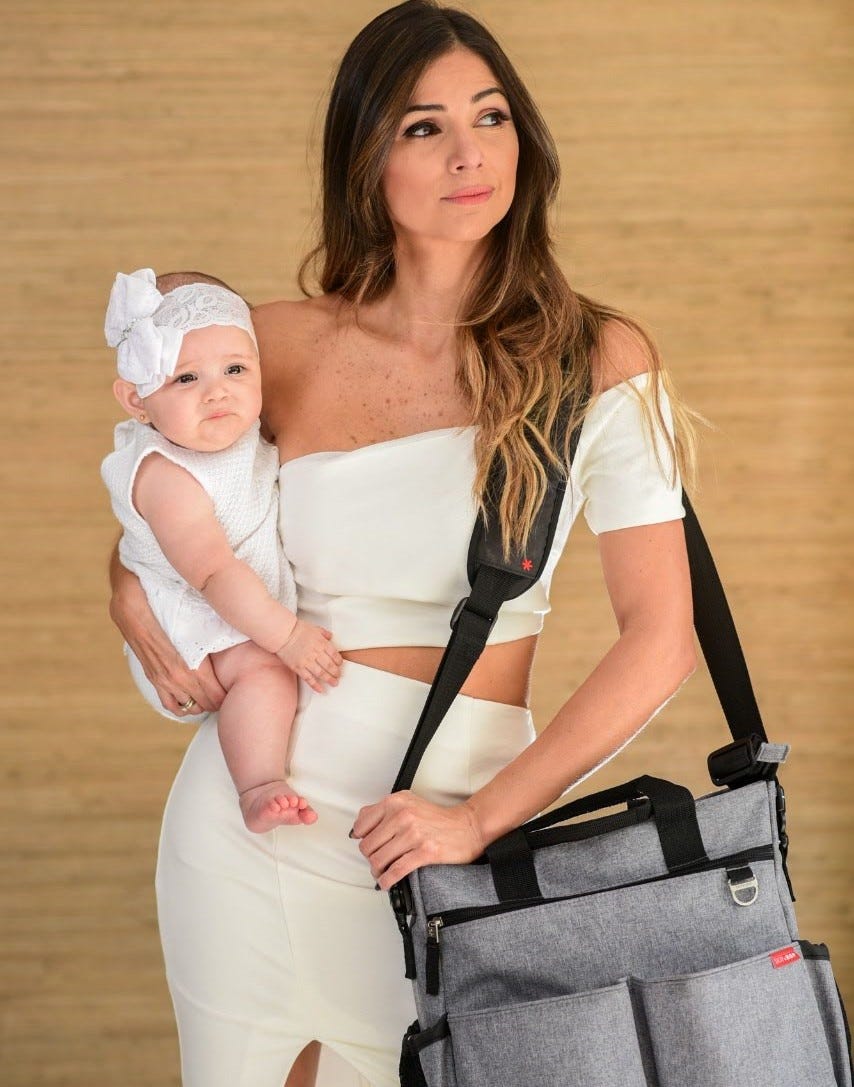 Katy and her daughter "on the go"
THE TIP JAR (Tips provided courtesy of Katy Ferrer)
STARTING OUT: At this stage, Ferrer cautions you not to think you're going to make money quickly. Instead, she says you need to "have the patience to understand that you have a lot of time to develop your talents. Focus on your talents because what you do with your passion will have the best chance of making you money."
STEEPED IN SKILLS (mid-career): "Definitely, when we have less time and many more personal and social responsibilities, things, obviously, become more difficult." But Ferrer doesn't want moms to use that as an excuse not to go after their dreams.
She says that if you know and believe that you deserve better things in life, you need to mentally train yourself to reinforce that idea.
She suggests you change your mindset to one of saying to yourself, "I'm going to do it for my kids because it's going to give me more joy and more smiles, and I'm going to feel better about myself."
STARTING OVER: If you're starting on your entrepreneurial journey later on in life, Ferrer says, "You need to lose your fear."
"Young people are bigger risk-takers, while those of us who are older don't take as many risks. Fear becomes more powerful…. Reset your mind… Start with joy, momentum and with butterflies in your stomach to do something new."
I'LL NEVER DO THAT AGAIN: Ferrer says she won't make the mistake again of trying to do it all, and she encourages other not to make the same mistake.
"Having the confidence to delegate is very important."
Otherwise, she says you'll set yourself up to possibly collapse, mentally and physically.
BEST ADVICE FROM "LA CASA"/BEST "HOUSE" ADVICE: Katy Ferrer credits her dad with giving her great advice.
"He always told me that numbers were extremely important, independent of the career I chose."
"I'm a social influencer. I'm a journalist. But he always said I needed to be informed about economics, business and numbers… You can be great at making money. But if you don't know how to manage it, you'll still end up nowhere."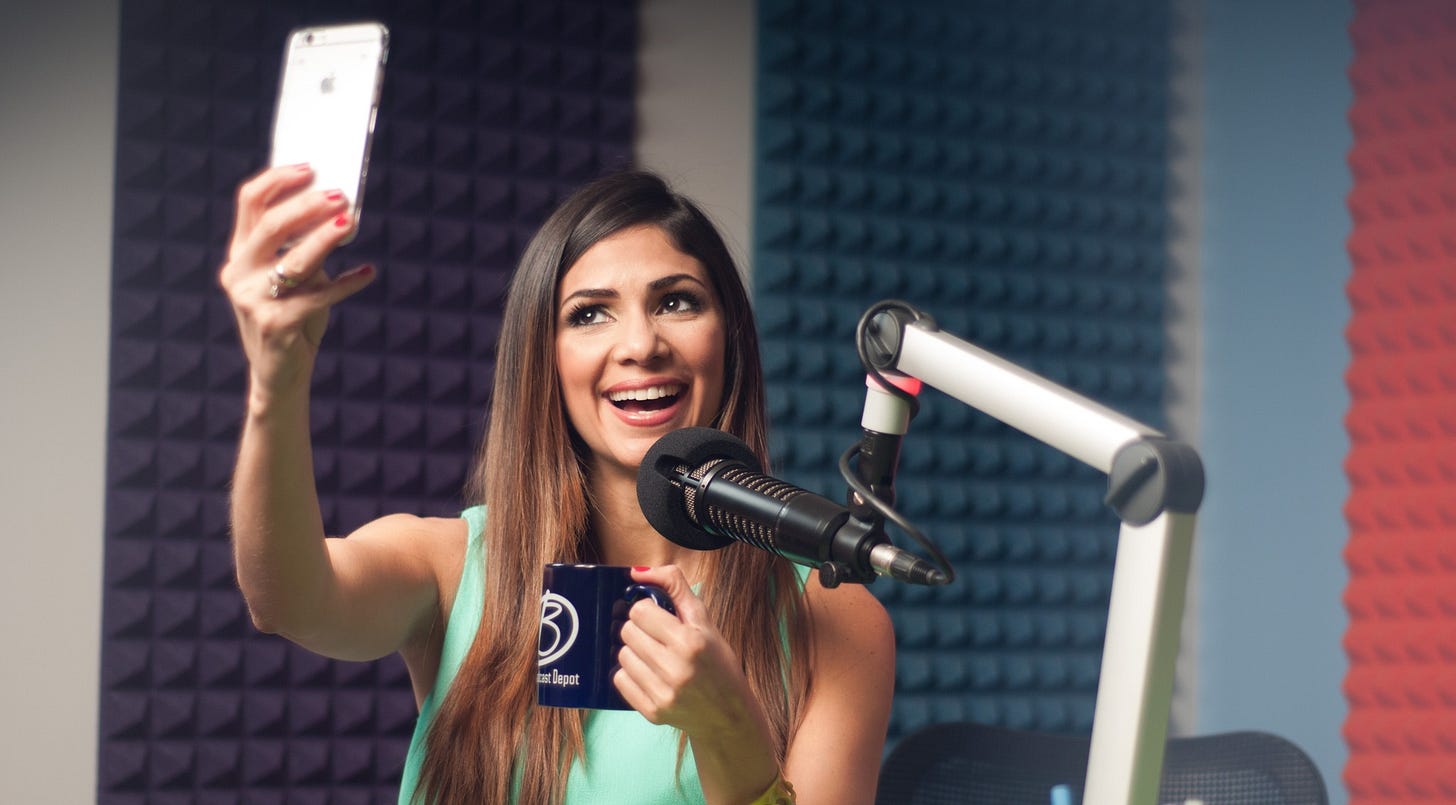 Katy uses social media, her journalism background & life as a mom to build her brand
BE FIERCELY PROTECTIVE OF YOUR "POWER HOUR"
The day I interviewed Ferrer about her brand, Katy Estilo Mamá (Translation: Katy Mom Style), she told me she was doing the interview at her neighborhood's clubhouse.
"I prefer to come to work at the clubhouse of my community instead of doing it at home. I'm next to my house, but I don't want to go inside so there won't be any distractions during my 'power hour.'"
Because if not, she says she'd end up going home and being distracted by cleaning, cooking and other household chores.
That's why she recommends everyone, especially moms, find a place where they can dedicate a "power hour" to doing projects they find fulfilling.
In her case, it's to work on her blog, social media and her personal brand.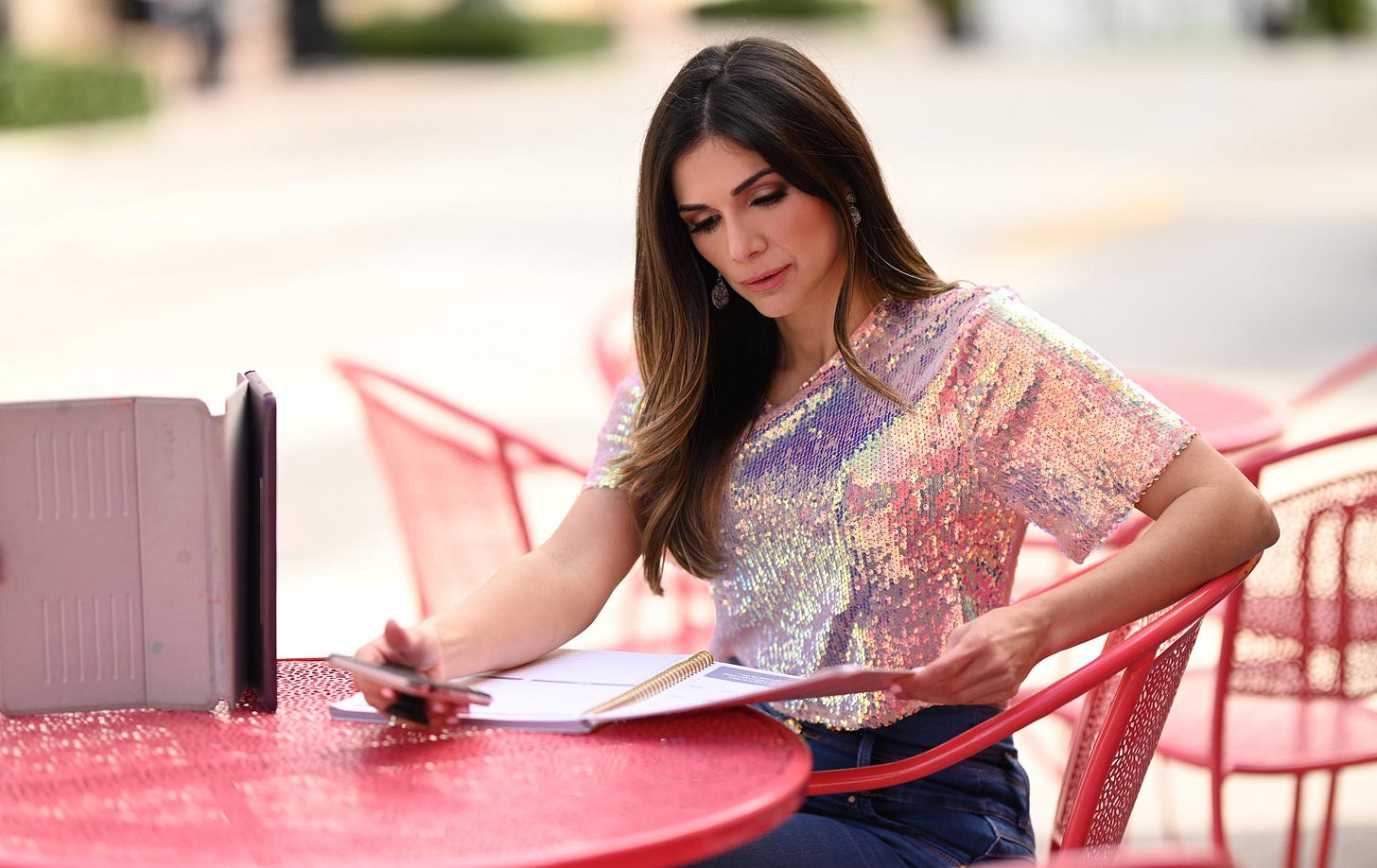 "Power hour" - wherever it works best for you
AN INDEPENDENT SPIRIT CAN MANIFEST ITSELF IN DIFFERENT WAYS
Ferrer believes that her independent spirit led her to become a mompreneur. And it started with lessons about money from her dad, a mathematician.
"From a very young age, when I was a teenager, he taught me to have my own bank account. To save. To use my own money."
She became really good at saving and says the first time she splurged with her money was 10 years later when she was getting married.
Ferrer told her parents, "Don't worry. I'm going to pay for the majority of my wedding with my savings."
It gave her such pride to be able to do that.
"And that left me with the idea in my head to make money."
GOAL, AGENDA, PRIORITIES, SUB-ACTIONS
To make money or to achieve a dream, Ferrer thinks it's non-negotiable to have an agenda to set priorities.
She's a firm believer that it starts with goals and asking yourself the following:
"Where do I want to end up?"
"What are the actions that I need to do to reach my goal?"
The mompreneur says she also believes that creating a list of sub-actions and then completing that checklist will lead you to your ultimate goal.
YES, YOU CAN MAKE THE TRANSITION
She's made the transition from traditional journalism to building a business around her personal brand that shares the joys, difficulties and surprises of being a mom.
As she gets ready to put on her signature event that draws thousands, Feria Estilo Mamá [Mom Style Fair], for the seventh time, she thinks about her entrepreneurial journey.
"You have to learn a lot about everything – things you never imagined!"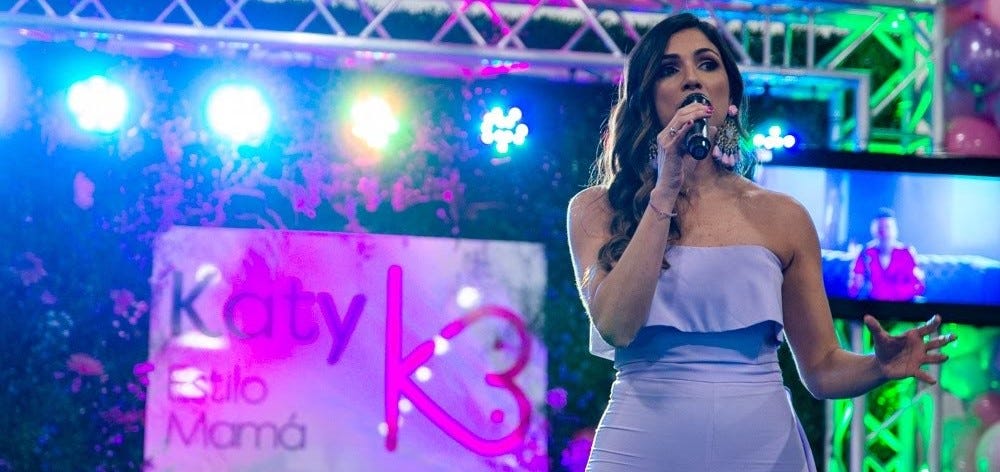 Katy taking control of events, in front of and behind the camera
INDUSTRY: Social Media (Influencer and Journalist)
STARTED BUSINESS:
December 2016
LATINO CONNECTION:
Born in Venezuela
Both parents were born in Venezuela
EDUCATION: Universidad del Zulia (Venezuela) – Bachelor's degree in Audiovisual Journalism & Social Communication
DREAM JOB AS A KID: "I imagined myself as the most important TV host in the world, Oprah Winfrey. But, well, thank God, through digital media, I have a different kind of screen today and a digital audience that allows me to reach the masses."
BIGGEST GOAL YET: "I have my event, Feria Estilo Mamá (Translation: Mom Style Fair). It's the signature event of my brand."
Ferrer's biggest goal is to "turn it into a special event franchise, somehow - an event that can be duplicated… where my brand can expand through event producers in other cities and countries."
NO NEED TO GO IT ALONE
HELP ON THE OUTSIDE...because we can all use a helping hand:
Get Certified to Become a State Contractor
You'd be surprised how many opportunities the state of Florida provides for those who are certified as contractors. Curious? Then attend this webinar to find out what's involved.
It's for women, veterans and minority-owned small businesses. Even if you don't fit into any of these categories, you should attend to make some connections and find out if there are any other programs you might qualify for with Florida's state government.
SBDC (Small Business Development Center) Florida
Wednesday, Nov. 2, 2022
1:00 p.m. EDT – 2:30 p.m. EDT
Virtual Workshop
FREE
https://www.score.org/event/franchises-easier-way-owning-business-15
WORKING ON THE INSIDE...because we know our culture has a hard time asking for help:
Confidence Reboot: Instilling It In Yourself & Your Team
I found this webinar description so interesting because it looks at how to inspire confidence, engagement and trust from the perspective of you, as the small business owner.
The webinar takes into account the modern-day workplace and helps you radiate confidence when you have these talks with your team. Look below for more details:
SBA (Small Business Administration) & SCORE (Service Corps of Retired Executives)
"Championing Confidence in the Workplace"
Wednesday, Nov. 2, 2022
12:00 p.m. EDT – 1:00 p.m. EDT
Virtual Webinar
FREE
Championing Confidence in the Workplace | U.S. Small Business Administration (sba.gov)
INSPIRATION FOR THIS ISSUE:
The social media influencer space is crowded.
Do a search and you'll see just how much advice is out there for starting your own blog, YouTube channel or building your brand on one of the popular social media platforms.
To do it well, you have to find your niche.
But many people have found that focusing on something they're genuinely passionate about keeps it interesting for them.
With these kinds of things, though, you must have discipline and consistency.
Then there's the question of making money from it – if you want it to go beyond being just your hobby.
The pandemic helped turbocharge what was already a rise in influencers.
With the focus on all things digital and, as a result, a need for more content, it was bound to happen.
That's why I wonder if the people who track rates of entrepreneurship have accurately captured the number of people who have turned to this kind of business as their livelihood.
I wanted to interview Katy Ferrer because I think we need to know more about these non-traditional types of businesses that can make sense for certain people with a clear plan.
I liked her independent streak and think her focus on putting on fairs as a showcase event serve as a great way to differentiate her brand.
In Part Two, I'll reveal, in more depth, how Katy Ferrer was able to grow her business. Plus, I'll share how something that she avoided turned out to be her calling card.
You don't want to miss it!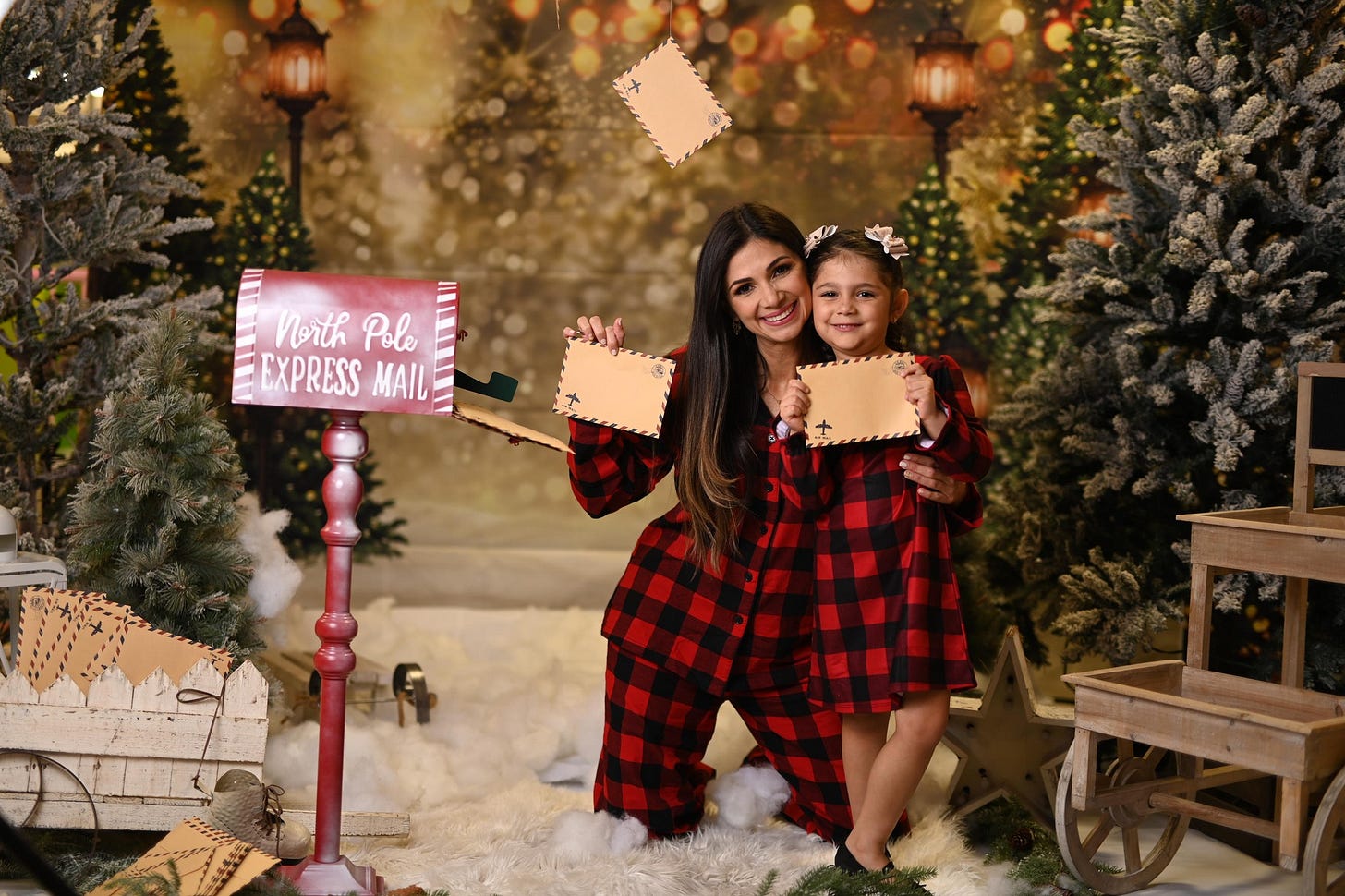 A "mom and me" moment
🌴 Don't forget to support this independent Latina-created publication by subscribing.
🌴Follow me on Facebook, Instagram and Twitter.
🌴Thank you so much for your loyalty. Sending you good thoughts & positive vibes as you go after your dream! #theskyisNOTthelimit 😺