Entrepreneurship as Your Great Equalizer: Crafting a Bright Future When Academics Aren't Your Strong Suit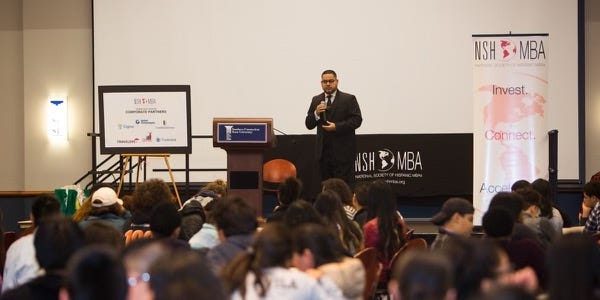 Good day, friends! 👋🏽👋👋🏿 Entrepreneurship has been referred to as an equalizer. As in, it can catapult someone to success who would traditionally have faced great challenges. Carlos Perez, the founder and CEO of Perez Technology Group, would tell you that entrepreneurship was his golden ticket.
Here's what you'll learn:
🌴The importance of mentors in key stages of development.
🌴 Why you should focus your efforts on what you're good at vs. being a jack-of-all-trades.
🌴A FREE webinar to help you set and achieve your professional and personal goals (get a head-start on 2023!)
🌴Now, get inspired by getting to know Carlos Perez, the entrepreneur behind Perez Technology Group.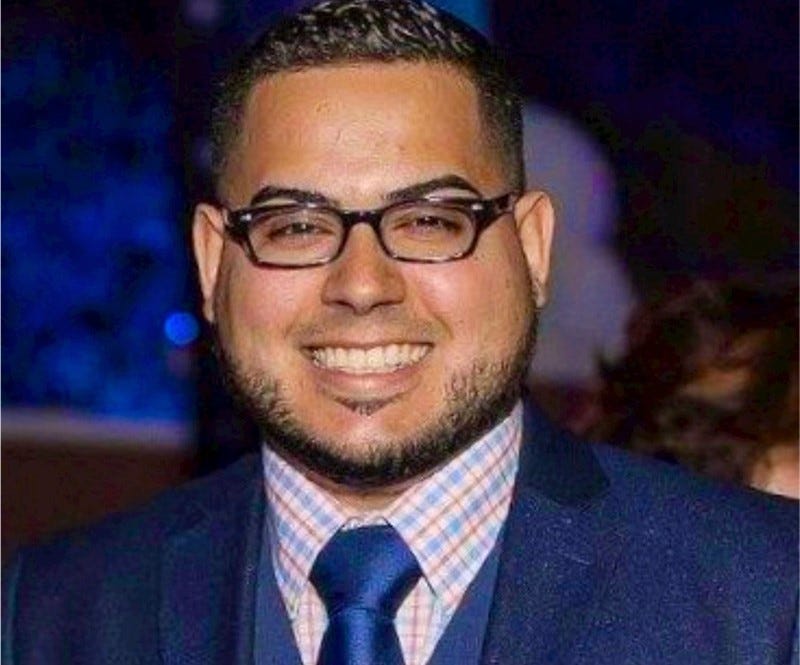 Carlos Perez - Principal & Founder of Perez Technology Group
YOU DON'T HAVE TO BE THE ACADEMIC TYPE TO DO WELL
"I almost got kicked out of the University of Connecticut for not having the grades."
Carlos Perez says he never had an easy time in school.
"It was just something that didn't necessarily come naturally to me. I always felt like I was a fish out of water."
But there was something that did come naturally to him: technology.
"Technology, to me, freed my mind. It empowered me in ways that I could never, ever imagine without it."
TECH SKILLS + ENTREPRENEURSHIP = LOTS OF OPPORTUNITIES
It started with a teacher in high school named Anne Nguyen who helped him realize all was not lost.
"I remember being in that stage where I was struggling academically, and I was finding my way. And she kind of opened my eyes to entrepreneurship."
The combination of tech skills and entrepreneurship helped Perez find a path to a future.
It set him up for being recruited, right out of the University of Connecticut at the age of 22, to work at Avanade, a company founded as a joint venture between Microsoft and Accenture.
He remembers getting his first assignment.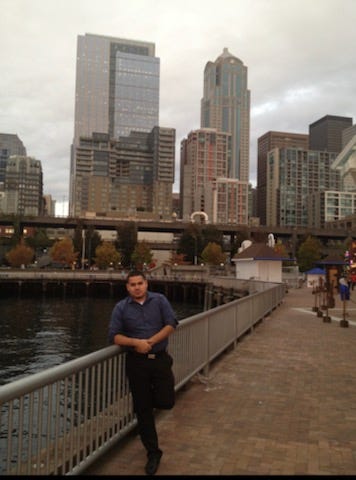 Getting his big shot at Avanade (at the time, a joint venture of Microsoft & Accenture)
MAKE THE MOST OF THE FIRST OPPORTUNITY YOU'RE GIVEN
Perez was told, "Pack your bags. You're… going to New York City. And your first client is going to be on Wall Street."
It was a major investment bank of Wall Street where he'd be handling IT consulting. It was after the Great Recession when the financial world had crashed and there was still chaos.
I asked him how he felt at the time.
"Terrified. Terrified."
Perez knew he was good at technology.
But, he didn't know what he'd be facing in the corporate world.
"I knew something really bad was happening, but to contextualize that at 22 years old, with no life experience, is next to impossible… You just don't really understand anything about life or the world. You're just trying to, you know, come of age yourself…"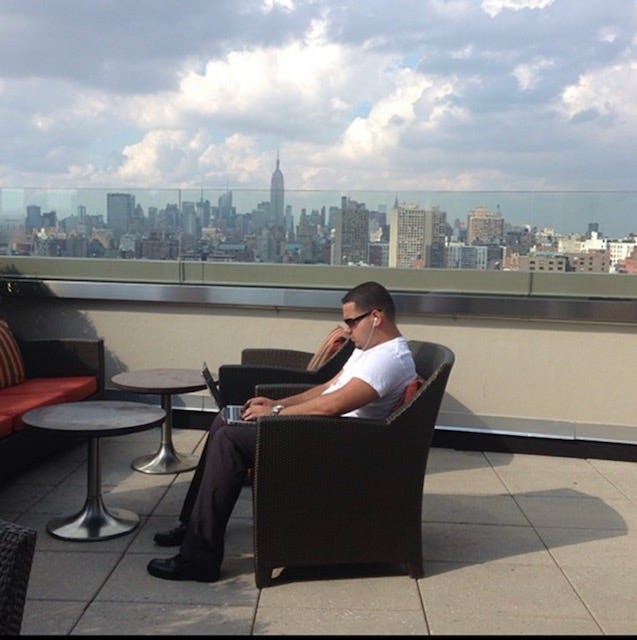 Carlos working in New York - Wall Street (2012)
A MENTOR WILL HELP CARRY YOU THROUGH THE TOUGH TIMES
He credits a mentor at that company, Mark Bakunas, for helping him with things he struggled with that affected him in the workplace. "I still respect him to this day for his professionalism, for his guidance, for caring when he didn't need to…"
The next five to six years had him on a plane. All the time. By the age of 25, Perez says he'd racked up nearly a quarter of a million frequent flyer miles.
But there was still a nagging feeling something was missing. He really wanted to be a business owner.
And that's when the third mentor stepped into his life, Wilson Camelo. That's the person who encouraged him to start Perez Technology Group.
"He helped me see it as something that I could really do... He saw it before I did. And he helped me see it."
DON'T MAKE ANY ILLUSIONS; IT WILL BE HARD
It wasn't easy. The only way Perez was able to have the courage to go out on his own and start his business was by "pounding the pavement."
He tells aspiring entrepreneurs, "There is no other way. It's gonna be hard. It's gonna be stressful. It's gonna be difficult."
Perez says his business did not grow overnight. "There [were] times when you doubt yourself. There's certainly a lot of people who doubted me and were open about it."
But those people were his fuel.
Sure enough, Perez says it was six months before he got his first client. But he now has clients in five states and four countries.
In Part Two, find out the specific questions he says you need to ask mentors and what kinds of skills make the difference.
BE COMFORTABLE WITH WHO YOU ARE
Today, Perez is secure in who he is and has become.
"I knew I was not the academic person. I'm still not the academic person. I've grown to accept that…"
It actually makes him appreciate his accomplishments even more.
"I'm a whole lot prouder of that kid that didn't give up. And there [were] tears and there [were] difficult moments, but… it goes back to what was fueling me."
"I never accepted that I was down and out. I was down many times. But never down and out."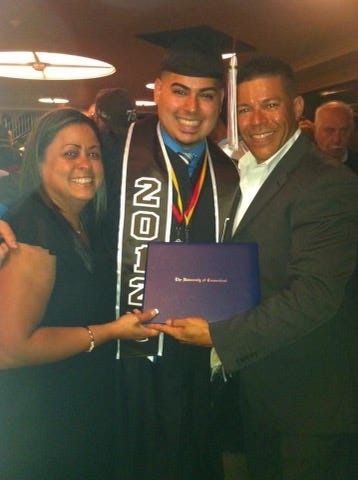 Carlos graduates from the Univ. of CT (pictured with his parents)
THE TIP JAR (Tips provided courtesy of Carlos Perez)
STARTING OUT: "You have access to the single best tools in human history when it comes to technology and access to amazing people. I would say, find the person that is doing exactly what you want to do, [who is] where you want to be, and go after that person."
What do you say to that person?
"I will do a free apprenticeship for you. I just want to go to meetings for you and hold your notebook. I just want to be in the room. I want to listen. I want to participate. I want to know how you got to where you got… And make it clear to that person, I want to work very, very hard."
STEEPED IN SKILLS (mid-career): "People just want to rise to the top of the mountaintop really, really fast… I get that we live in an insta-everything world where two seconds [after] you order something, and it's at your door. But that's just not the way entrepreneurship works. I'm sure in certain cases that people have succeeded that way. But it's about small steps. You can put in an hour in the evening on your side business to try to, you know, build something."
STARTING OVER: "I would encourage those people to reflect upon the value that they have and that they built over 30, 35… 40 year careers and say, how much value really lies in that wisdom and all that knowledge and all that experience? And bring that to the forefront."
I'LL NEVER DO THAT AGAIN: "Understand your craft and hone in on that… and hit it as hard as you can. Don't try to be the accountant. Don't try to be the marketer. Don't try to be the recruiter… More often than not, even if you do get decent at it, the amount of time you spent trying to become okay at something would've been well worth it to pay an expert to just hit a homerun on it – because they do it every day."
BEST ADVICE FROM "LA CASA"/BEST "HOUSE" ADVICE: "Hard work was always a theme in my house."
"I always emphasize just working harder than other people. There's always going to be someone that gives up along the way. If you keep moving, you're still in the race. You could fall as many times as you want. But you're still moving. You're in the race. My parents always embedded that in us."
INDUSTRY: Internet Technology Services, Cybersecurity
STARTED BUSINESS:
Came up with idea in 2014
Started in 2019
LATINO CONNECTION: Perez was born in Puerto Rico
Parents are Puerto Rican
EDUCATION: University of Connecticut – Bachelor's degree in Business IT
DREAM JOB AS A KID: "I always wanted to be a baseball player."
NO NEED TO GO IT ALONE
HELP ON THE OUTSIDE...because we can all use a helping hand:
Tax Basics
Are you in the dark when it comes to taxes as a small business owner? Help is on the way. This is a tax boot camp to teach you the basics so you can take that info and have a meaningful conversation with your accountant.
NEC (National Entrepreneurship Center) & SCORE (Service Corps of Retired Executives)
Tax Boot Camp for Small Business Owners
Saturday, Nov. 12, 2022
10:00 a.m. EST – 12:00 p.m. EST
Virtual Webinar
FREE
SCORE: Tax Boot Camp for Small Business Owners - National Entrepreneur Center (nationalec.org)
WORKING ON THE INSIDE...because we know our culture has a hard time asking for help:
Goals, Goals, Goals
Mark this one on your calendar and get a jump-start on your 2024 goals. This is such an interesting class because it will show you how to not only set your goals but also the best way to achieve them. This is the kind of info that you can definitely apply professionally and personally.
SCORE (Service Corps of Retired Executives)
"Gearing Up for 2023: Goal Setting that Brings Results"
Wednesday, Dec. 7, 2022
9:00 a.m. EST – 11:00 a.m. EST
Online Webinar
FREE
Gearing Up for 2023: Goal Setting that Brings Results | U.S. Small Business Administration (sba.gov)
INSPIRATION FOR THIS ISSUE:
Do you chat it up with your Uber or Lyft driver?
I have to say, I hear some of the best lessons about life from these folks. On a recent trip to Colorado, I was speaking with a middle school teacher who said he did the ride-share driving thing to supplement his income.
That's when we started talking about challenges kids have today.
I asked him, besides the pandemic and remote learning, why so many kids seem to struggle.
His answer?
Grit.
He said kids these days just don't seem to have grit. They give up too easily. If they face any struggle or any setback, they just throw in the towel. And he's been a teacher for at least ten years.
Carlos Perez's story is about what happens when you don't throw in the towel – when you decide you WILL find a way.
He wanted to share his academic difficulties because he knows what it's like when you struggle when schoolwork just doesn't come easily to you.
It doesn't mean you give up.
It's why I was eager to share his story with you.
Pure grit.
You'd be surprised how much it can keep you in the race and, eventually, get you over the hump.
Remember this when you're ready to give up. #theskyisNOTthelimit
🌴 Did you find this article inspirational and informative? Support this independent Latina publication right here.
🌴 Connect with me on social media: Facebook, Instagram and Twitter.
🌴 Make it a great day! Thank you for reading my newsletter. 😺