How Sales Skills Can Be Your Ultimate Superpower
The Serial Entrepreneur Who Credits His Success to Seeking Out What Others Stay Away From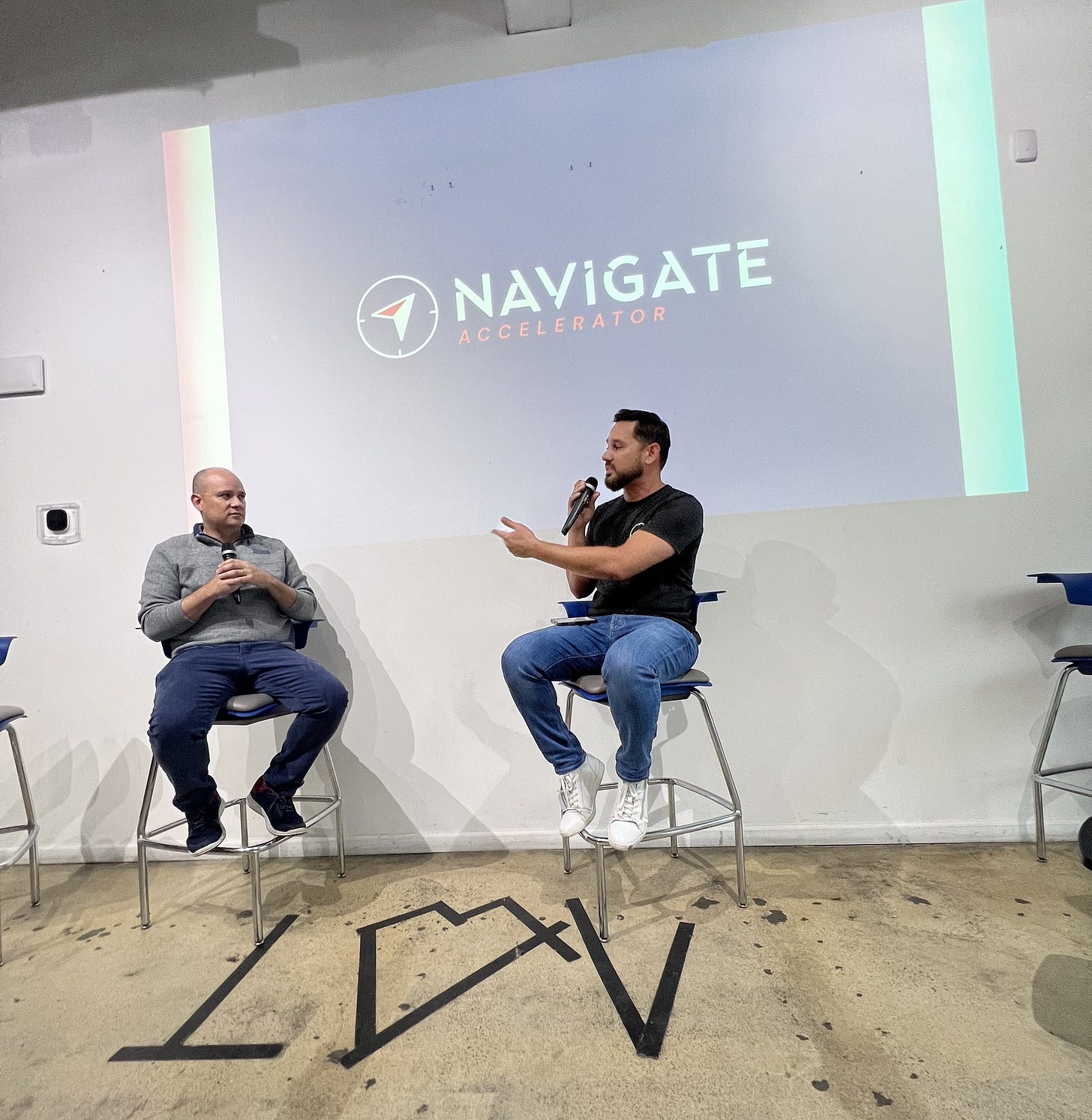 Hello, everyone! 👋🏽👋👋🏿 Today's spotlight shines on Pedro Sostre. He's a serial entrepreneur who understands sales and salesmanship. And even though he's been founding companies for years now, he never forgets what being good at sales can mean.
In this article, you'll learn the following:
🌴 How being good at sales can set you apart from the competition.
🌴 Why knowing how to sell can make or break you when seeking money in the venture capital world.
🌴The professional that Sostre says you cannot ignore as an entrepreneur.
🌴 This is Pedro Sostre, founder & CEO of Navigate Accelerator.
EMBRACE A SKILL THAT OTHERS RUN AWAY FROM
"The first thing that I learned when I started creating businesses is the power of salesmanship. Salesmanship is pretty much everything in those early stages."
Serial entrepreneur, Pedro Sostre, has always had a thing for sales. As a 17-year-old working at a clothing store, even his manager called on him when there was an unhappy customer. Sostre knew how to turn things around.
"They came in to complain and maybe get a return… And they would leave purchasing like $300 or $400 worth of product."
He says, "I embraced the concept of starting to love things that everybody runs away from." In his mind, that kind of thinking opened him up to opportunities other people wouldn't get.
That's why Sostre believes it's important to "embrace the most painful thing that's in that role and become really good at it. And it becomes your superpower later on."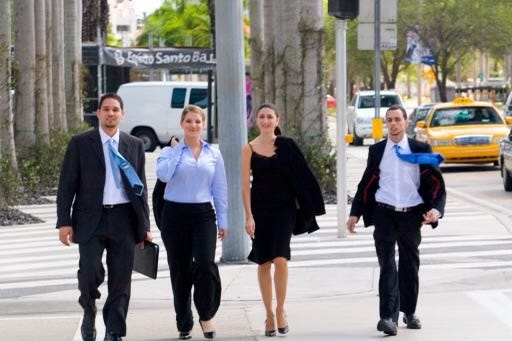 Pedro Sostre (far left) on shoot for Weblift, a marketing co. he founded in 2003
THE TIP JAR (Tips provided courtesy of Pedro Sostre)
STARTING OUT: "Learn how to sell. Every interaction is an opportunity to sell. That should be your #1 skill starting a company in your 20s."
PRACTICAL APPLICATION: Sostre advises you to read a book about sales. He likes "How to Win Friends & Influence People" by Dale Carnegie. But he says there are many good books about sales out there.
"It's not that complicated… Sales is just like any other thing that you learn. There [are] frameworks to it. And there [are] principles. And they are all very similar."
STEEPED IN SKILLS (mid-career): "Find an advisor that has done this before and get a realistic understanding of what it's going to take."
PRACTICAL APPLICATION: An advisor can help you set realistic goals and parameters. Sostre says, if you're coming from a corporate environment, your expectations may be off.
"You're used to six-figure budgets. And, so, you're like, software - $100,000. Marketing - $100,000. And you could've talked to an advisor that's going to tell you, 'Hey, this whole thing should only cost you $15,000."
STARTING OVER: For people who are wanting to start a company later on in life or as a second career, he recommends the book, "The Second Mountain: The Quest for a Moral Life", by David Brooks. Sostre says the book describes how a person reaches the first mountain, usually with financial success.
"And then the second mountain is… doing something you love or your passion." He goes on to say, "Define your vision. And don't ever lose sight of that. Keep that vision as the center of everything you do moving forward."
I'LL NEVER DO THAT AGAIN: "Never ignore my accountant… You hear, a lot of times, accountants are unemotional." Sostre now thinks that's a very good thing when taking a hard and honest look at numbers in a business. That's why Sostre says, "I ignored my accountants way more than I should have. I will never ignore my accountants again."
BEST ADVICE FROM "LA CASA"/BEST "HOUSE" ADVICE: "It's not like a saying so much. It was just to be a good person. No amount of money is worth your character. So, sometimes, you're going to take a loss because you refused to, you know, compromise who you are. And I think that's important…"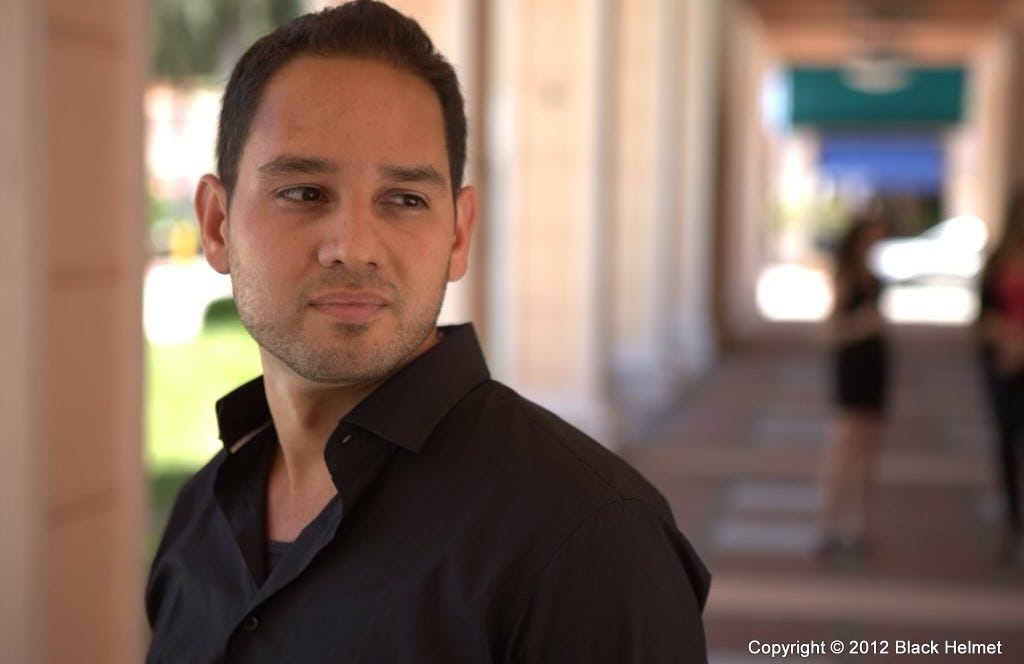 Pedro back in the days when he ran Black Helmet Apparel, another company he founded
THE SALES PITCH MATTERS
While Sostre now teaches people who want to start companies how to do it through his Navigate Accelerator program, he started his first company in landscaping. He sold that business and later started and sold apparel company, Black Helmet Apparel.
With the money he received from the sale of Black Helmet Apparel, he decided to help other founders through Navigate Accelerator. It's a company which provides aspiring or early-stage entrepreneurs with the one-on-one guidance to launch or grow a business.
In the process of helping founders get funding, he's noticed that, again, sales, comes into play. In other words, the sales pitch matters.
He says that's especially true for women and people of color who barely register when it comes to receiving venture capital funding.
Sostre says, "People of color get less than 4% of all venture capital. Women get… 2% of all venture capital…"
KNOW YOUR AUDIENCE & TAILOR YOUR PITCH TO THEM
He gives the example of a founder he's been helping. Sostre says, "She's not the pushover."
But he's had to give her a pep talk on how to make an effective sales pitch when asking for funding for her business. He tells her the approach has to be different.
"I've seen you in certain circumstances where you know how to assert yourself and you know how to be the boss. But then you get on a call with an investor and you sort of shrink a little bit… And that's actually the opposite, you know, of what they're looking for. So bring that same, like, fearlessness that you approach life with into the fundraising process… You're going to have way better results. Because that's what they expect to see. That's what they associate with a leader."
Now, with Navigate Accelerator, Sostre is hoping to make a difference for people who may traditionally get passed over for participation in an accelerator program or business funding, as well as those who need some help to get their idea or business off the ground.
"I see a lot of opportunity, and I see a lot of hopefulness for the future."
In Part Two, find out why Sostre believes startups have a very different focus than small businesses. And what you need to concentrate on to succeed.
INDUSTRY: Coaching/Consulting (Help for Startups)
STARTED BUSINESS*:
Sostre Land Design (Landscaping business): 1998
Weblift (Marketing company): 2003
Black Helmet Apparel (Clothing company): 2008
Navigate Accelerator: End of 2020
*Note: There are smaller companies Sostre founded that are not listed above
LATINO CONNECTION:
Parents are Puerto Rican
EDUCATION:
Attended The Art Institute of Fort Lauderdale – Visual Communications
DREAM JOB AS A KID: "A comic book artist. Yeah, I was pretty committed to that."
That was until Sostre was exposed to other forms of art in college. He says the comic book art world is still great. But, "It just wasn't as sexy as some of the other things that I discovered in terms of what I really like to do. It's a little bit more mundane in the comic book art world, at least from my perspective. Although, I still think it would be fun to do a comic book one day."
BIGGEST GOAL YET: "To support 10,000 founders while they build their startups and raise capital…"
NO NEED TO GO IT ALONE
HELP ON THE OUTSIDE...because we can all use a helping hand:
Going Global
So you want to grow your business globally? This FREE webinar will let you know what kind of resources are available to help you sell internationally. If you've been wondering about what's involved and are curious about the Small Business Administration's federally guaranteed loan program, you'll want to attend this webinar.
SBDC (Small Business Development Center) Florida
"Grow Your Business Through Exports"
Thursday, October 27, 2022
1:00 p.m. EST – 2:00 p.m. EST
Virtual Webinar
FREE
Overview ⋮ Grow Your Business Through Exports (Webinar) ⋮ Blackthorn ⋮ Events
WORKING ON THE INSIDE...because we know our culture has a hard time asking for help:
The Pitch
Are you ready with your elevator pitch? Still working on it? Or maybe it needs a bit of a refresh? This FREE webinar will share why you need to have an outstanding elevator pitch. You'll also get tools to make your elevator pitch stand out and learn the biggest reason why I think this webinar could be so useful: the presenter will teach you the secret of great communication. Here are more details:
SCORE (Service Corps of Retired Executives) & NEC (National Entrepreneurship Center)
"Perfect Your Elevator Pitch"
Thursday, October 20, 2022
Virtual Webinar
FREE
SCORE: Perfect Your Elevator Pitch - National Entrepreneur Center (nationalec.org)
INSPIRATION FOR THIS ISSUE:
Some people are born to sell. Most of us could benefit from some tips and pointers.
Whether you like it or not, whether you're good at it or not, devoting some time to improving your sales skills can make a big difference. And you never know how, or where, those skills will come in handy.
Even as a reporter, there's a lot of daily "selling" involved. You'd be surprised how much of a "sales job" it is convincing people, especially during the last few years, to go on TV for an interview.
Yes, I know some people will do anything to be on TV. But there are plenty of people who need to be persuaded to give you an on-camera interview. Even when working your contacts, you need to be able to convince a confidential source that you won't burn them, that they can trust you to share details, facts or documents that could make for a big story, but that could also potentially put their job on the line.
But even in other respects, from convincing a great candidate to join your company or a banker to give you a loan or a boutique to carry your merchandise, having a good sales game will serve you well.
Pedro Sostre caught on early that if he excelled at something others avoided, he could stand out and make his mark in the world. I think it's telling that even though he was a teenager at the time, even back then, he figured out that, if he could sell, he could create opportunities for himself.
He said that he feels like "society, sometimes, looks down on sales jobs," which he doesn't understand.
In the end, that knack for sales turned the savvy clothing store salesman (aka Pedro Sostre) into a CEO and serial entrepreneur.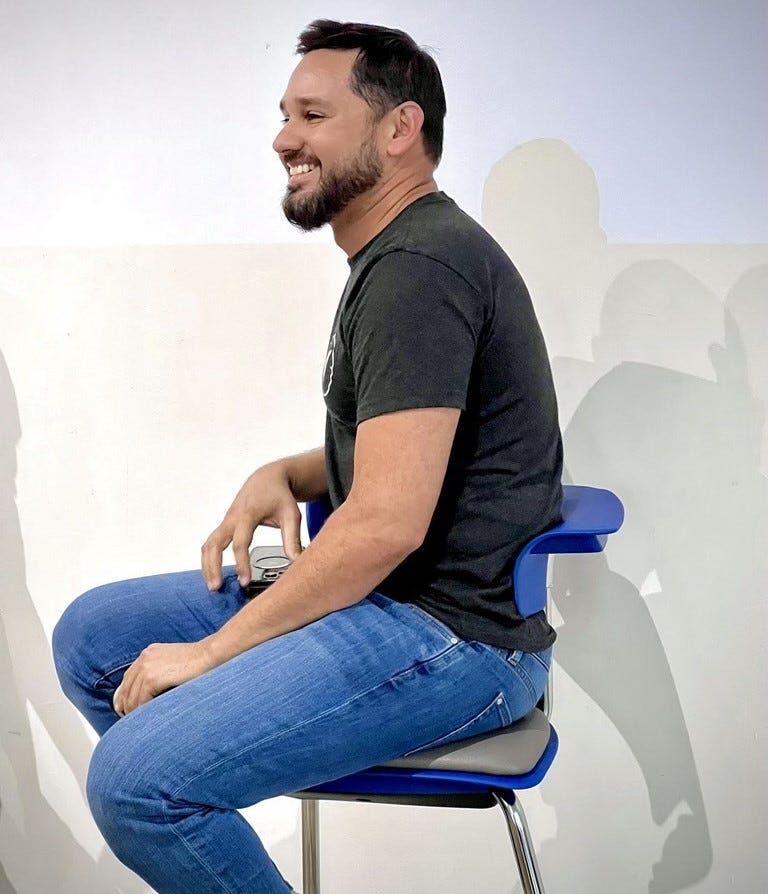 Pedro with eyes and ears open to opportunities
🌴Our community keeps growing! We've hit 5,000 followers on Facebook. Join us on FB, Instagram and Twitter.
🌴 And don't forget to subscribe to Generation Si! now to continue getting fresh, focused business-related content from a Latina - sent directly to your inbox.
🌴 Be sure to share this article with friends and family (share button is at the top).
🌴 Thank you for your support! #theskyisNOTthelimit 😺